TS9 Series PCB Mount Tact Switches intergrated LED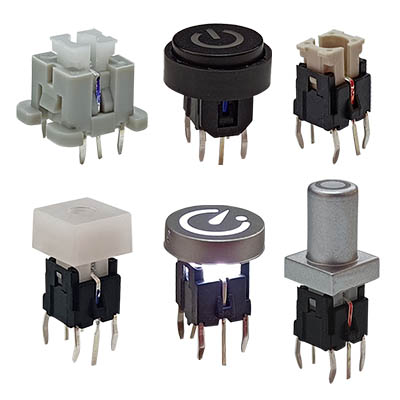 The 6*6mm illuminated Micro Switches is common 6 pin tact switches with embedded led lamp,it's convenient to mount on the pcb board,the TS9 series of led tactile switch has tiny size and multiple led lights option,we provide the red,blue,green,white and yellow as well as many dual colors,the illuminated tact switches 6x6 Led has SMD and through hole mount types.
The through hole type led tactile switches can be mount into the PCB directly,then soldering the terminal,but the surface mount cann't resist the high temperature,you need to soldering it via manual.
Besides,we have multiple cap color and size to match the illuminated Tact Switches Button,we also accept to customized the knob for your product design.
The mini momentary illuminated tact switches is widely used for the PCB control and embedded system,it's frequently-used for electronics instrument.
We are the manufacturer of illuminated tact switches,led push button switches and push buttons in China.